Professional Pet Grooming Services
Kamloops, British Columbia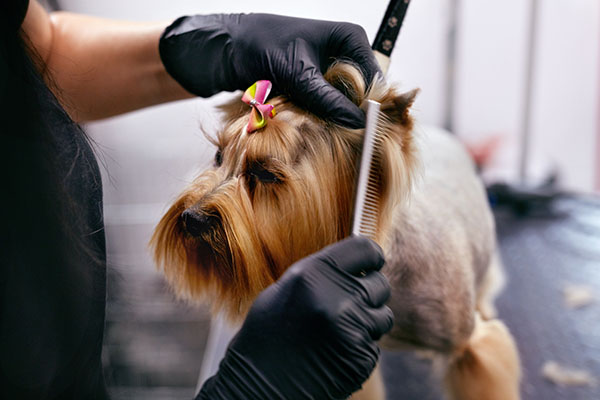 Our number one concern is always our furry friends' safety and well-being
We offer a relaxed, safe, calm atmosphere at all times. K9 and their feline friends are always welcome. We do not use heat to dry pets off. Pet owners know that grooming is money well spent. When this is done by a professional, it can be very healthy to groom your dog.
Grooming your dog not only makes them look good, it gets rid of knots and matted fur that can cause discomfort. There are also opportunities to have skin and nail treatments. As long as this is done by a professional, then it can be very healthy to groom your dog.
Make an Appointment Today
Do not attempt to groom your dog yourself
Dog grooming is quite a specialized skill and those who practice it train for quite a while. Attempting to groom your dog yourself can result in cuts and injuries to your pet as well as nasty bites and scratches to you. It can also result in your dog receiving a very bad cut and looking quite awful for quite some time.
A piece of advice is to check out the professional dog groomer. A good dog groomer can make the difference between your pet enjoying the experience or suffering psychological damage. They should be able to find a cut suitable for your pet and administer it with a minimal amount of stress.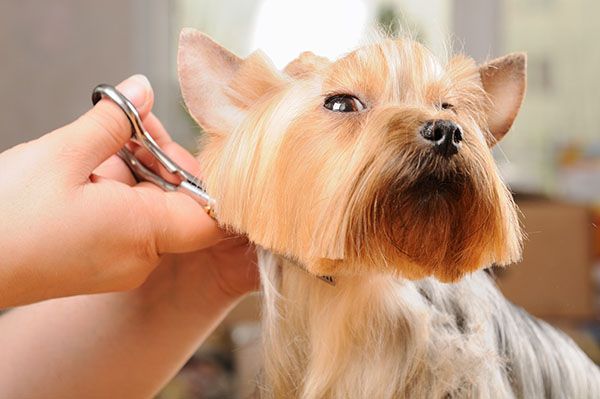 Meet the Staff of K'9 Designz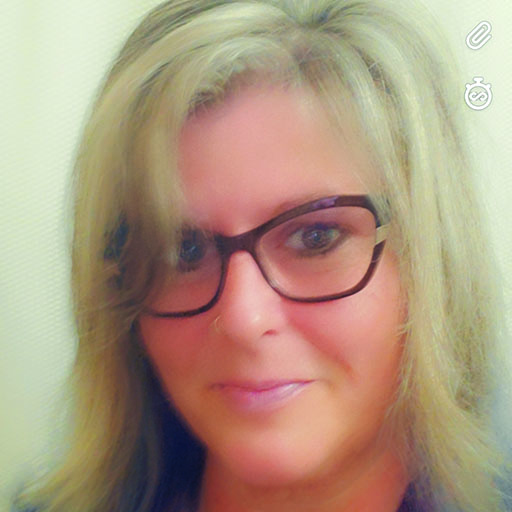 Sherry Indelicato
Owner/Manager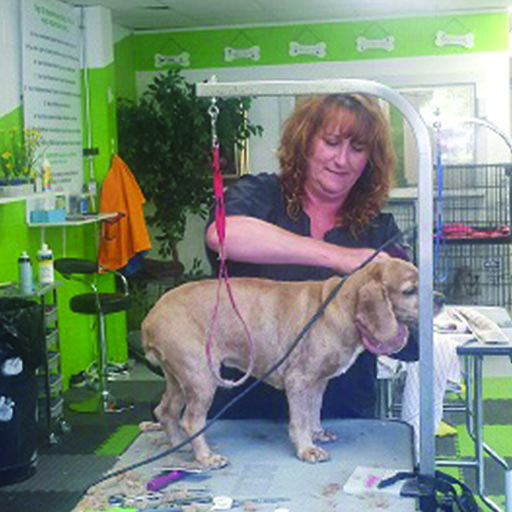 Michelle Rudkin
Senior Groomer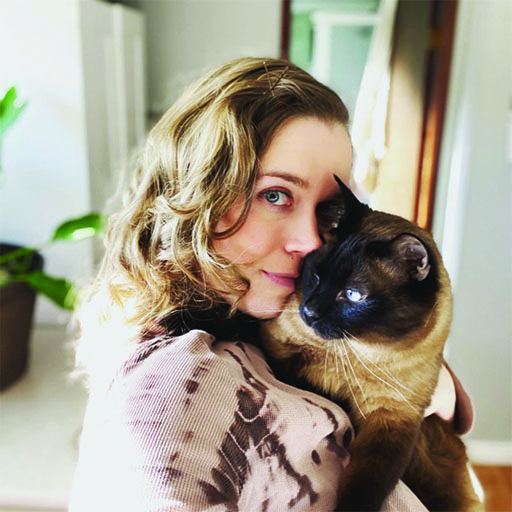 Julia Atkinson
Passionate Groomer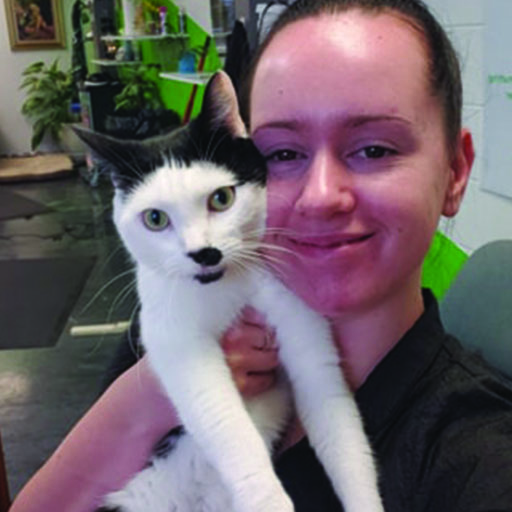 Jordyn
Passionate Groomer
Well, here I am 25 years later and I can honestly say I am still blessed to be in love with my career. I have a successful salon that I have owned and managed for the last 15 years. The reason behind our success has always been and will always be my amazing talented staff and our loyal amazing clients.
Even though I don't groom much anymore, I still very much get to enjoy working with a new groomer – helping them craft and fine-tune their skills. It takes me back to the basics and when a student is learning and really excited, it truly reminds me of why I am where I am today.
I would like to thank all past, present and future clients for entrusting us with the safety and care of their beloved fur babies. K'9 Designz mission statement has and will always be SAFETY, AND GROOMING FOR QUALITY, NOT QUANTITY
Hello !! my name is Michelle Rudkin. Some refer to me as Mich. I have been working with the dog industry for over 25 years. Starting with Dog Obedience, Kennel Management, then to the beginning of my Dog Grooming career.
I love the creative fascinating journey my dog grooming career has taken me on so far. Sherry and I have been working together for 15 years and I have been by her side at K'9Designz for the past 12 years.
I would like to take a moment and thank all our loyal, dedicated, fun loving doggy clients. Bless all that have passed and welcome all future furry friends.
I consider myself one of the luckiest people on earth to be able to come to work and be surrounded by dogs and puppies all day long! My love for animals has always abounded and for my fifteenth birthday I received my first dog, a beautiful tan Doberman cross whom I named Winston. What a wonderful companion he was as we moved to various different cities as I navigated through early adulthood. We went for many a hike, trail run and camping adventure together until he sadly passed away at the age of 14. Throughout my teens and early twenties I was employed at various feed and pet stores while going through university. Eventually I decided pet grooming would be the ultimate occupation for me as I enjoy being creative as much as I love being around animals.
In 2013 I was trained by Sherry at K'9Designz' for 12 weeks. After completing my rudimentary training I had the opportunity to apprentice under her for the following year and a half. Now in 2020 I have over 6 years of experience of grooming dogs and am working through the process of becoming a master groomer! Under a mysterious hand of fate I now own a Siamese cat named Solomon and have turned into a cat person. I appreciate all the more being entrusted with your beloved dogs every day. Thank you so much for the privilege of being able to spend time with your pups and trusting me with their care! It is a rewarding job that I have and I am truly blessed. 
Hi my name is Jordyn. I graduated from the Western Dog Grooming School in May of 2018 with my level one and level one intermediate CKC certification. I am very passionate about grooming dogs and making them look the best they can be. My goal is always groom the dog to the best of my abilities. I take special care to make every dog feel cared for and safe. The dog should always feel like it has had a wonderful, fun spa day.

K9 Designz Grooming Salon
10 months ago
Terra
They were wonderful. It was my dog's Oreo first time there and they were great with him. He can get scared with new people but they were really gentle and comforting to him. Also he was able to see me as they clipped his nails. They did a fantastic job with him. Will be going back there.
Burp
They do a great job grooming my dog! The best part is that my dog is not afraid to go there. I even thinks he might like it! Friendly staff as well
Lori
Staff are caring, and we have been very happy with the job they do each time we are there. Love the bandanas she comes home wearing!
Nancy
Great place to take your pets. They do nail trimming for dogs. The price is reasonable and service quick and professional.
Joy
They are so good with the dogs. She always comes home shiny, and happy.
BCM
I have a large dog and they do an excellent job on his hair every time. Also the drop in for nails anytime is great.
Krista
Just discovered this gem on the North Shore. Will definitely be going back. Quick friendly service and obviously love fur babies and very knowledgeable about what they do.
Maureen
I love K9 Designz. I bring both my rescue dogs in and they come home looking awesome and calm. I also brought my rescue cat in that is timid and a wee bit wild. Carly was incredible with her. Very knowledgeable and professional. Thank you All for really knowing what you do and feeling love for my precious pets. Totally Amazing!
Sally
Great place to take your furry friends. A really nice atmosphere. Animals are always so calm, as if they love being shampooed and clipped. And my pom looks awesome.
Mellissa
Great every time I go in! Always greeted with a smile, and they have a punch card program for nail clips!
Shara
Upon walking into the salon the atmosphere was pleasant. All pets looked to be relaxed and enjoying their experience. I brought my cat in to be shaved by Karly and was not disappointed! Not only did she remove all my cat's difficult mats but gave him an adorable little lion look. I would hands down recommend this place. Thank you so much!!